The Stonemason in Hattersheim

Meuer Memorials in Hattersheim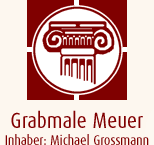 After a period of 75 years, the traditional family business reached a turning point. In January 2006, Marion and Theodor Walter Meuer passed on the stonemason's workshop in Hattersheim to the young accomplished master stonemason Michael Grossmann. The shop is now operating in its third business generation.
The Hattersheim site has also experienced a generation change:
Walter Meuer
Management
1932 - 1978

Theodor Walter Meuer
Management
1978 - 2006
Michael Grossmann
Management
starting 2006
When the business was passed on in 2006, the workshop was renovated, creating country-style office and showroom premises designed in natural colours and a generous exhibition area complemented by seating facilities and quiet zones. The result is an attractive setting for all aspects of gravesite memorial design.
All on-site stonemasonry work required in cemeteries is carried out by our team members, who have years of experience and deliver a professional level of quality.
3D-Tour